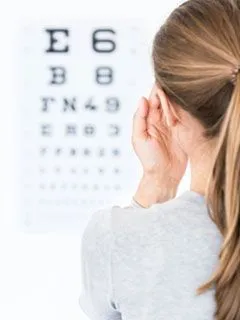 At Malvern Eye Care, Dr. Charles Griffen and Dr. Sara Bierwerth and their staff are committed to providing advanced vision care in a professional and comfortable environment. As optometrists our primary eye care service includes a complete eye exam that analyzes eye health and vision function. In addition to eye exams and vision testing, Dr. Griffen and Dr. Bierwerth provide testing and treatment for glaucoma, cataracts macular degeneration and other eye diseases. Malvern Eye Care also offers glasses, contact lenses, and pre- and post-operative care for our patients.
Comprehensive Eye Exams: Dr. Griffen and Dr. Bierwerth use the latest equipment and procedures to provide comprehensive eye exams to both children and adults.

Contact Lens Services: At Malvern Eye Care we fit all types of contact lenses, including Toric and Multi-focal designs, as well as Rigid Gas Permeable lenses. We also provide replacement contact lenses at prices equal to or lower than 1-800 Contacts and similar internet sites.

Low Vision Services: Dr. Griffen provides low vision care for patients who have reduced vision due to macular degeneration, retinitis pigmentosa and other eye diseases.

Laser Vision Consultation: Dr. Griffen and Dr. Bierwerth can assess whether you are a candidate for laser vision correction and determine which procedure is best for you.

Fashion Eyewear: We have a nice selection of designer and brand name frames and use the best quality lenses to ensure that you look and see your best. Our optician has over 30 years of optical experience and is happy to serve your optical needs.

Myopia Control: Malvern Eye Care is a full service provider of Myopia Control to slow the progression of nearsightedness in children. We utilize all currently approved methods to slow myopia, including Ortho K, specially designed bifocal contacts and low dose atropine drops.